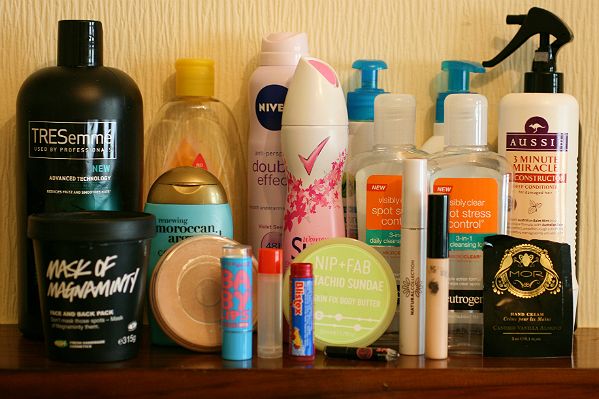 As you can see, I've managed to get through quiet a lot of products but it has been over the course of a few months. That lip balm with the red lid and no label was a Carmex one - I seem to pull the labels off things when I'm coming to the end of them forgetting I want to take pictures of them for a blog post! I really like the Carmex lipbalms, especially in the twisty tubes like that one. Behind the Aussie conditioner is a Tresemme heat defense spray.. I need to organise my pictures better!
Tresemme shampoo - Ah! I am SO happy to be done with this shampoo. I don't think it's the greatest shampoo in the world and it's just far too big. I had trouble holding the bottle and I got bored of it half way through.
Tresemme heat defense spray - I like this but I'm not sure whether it really does any good. I have another bottle on the go at the moment but once this one is gone I may look for a different one to try out. What are you favourites?
Natural Collection mascara in brown - I really liked this mascara considering it was under £2 but then I like natural looking lashes which is exactly what this gave me. If you like your lashes to look like you're wearing a lot of mascara then I don't think this is the one for you.
Babylips lipbalm in quenched - I've tried a few of the Babylips balms but this is my favourite. Since it's clear you don't need to worry about applying it without a mirror which for me, is something I don't want to worry about when applying a lip balm.
Collection concealer - While I like this concealer for covering blemishes I just find it breaks me out so although that tube in the picture isn't fully finished - I won't be using it anymore.
Soap and Glory smoulder kohl eyeliner pencil in black - I love this eyeliner! It smooth and stays put all day. I could get some more use out of it but I lose the lid to it and it's now covered in other make up so I've decided to get rid of it.
Have you used any of these products? What have you used up recently?