Hey guys, welcome to my first Friday Favourites! I'm not very good at doing a monthly favourite posts, I usually just don't have enough products to talk about. As a result of that, I've decided to start doing Friday Favourites, although not every week.. just when I have a few products that I'm loving and want to tell you about!
Macadamia Deep Repair Masque
- I've already reviewed this product (which you can read by
clicking here
) so I wont talk about it too much but I'm still really liking the masque which I usually leave on for around 10-15 minutes for silky soft hair. I have found a highstreet mask which I'm also loving also, so stay tuned for a blog post and review on that soon!
Not Your Mother's Way To Grow Shampoo - I've been really picky with shampoo lately and keep finding they leave my hair feeling knotty and hard to manage but this one not only smells amazing but didn't leave me with knotty hair and made it feel clean and soft instead. I'm almost out of this and going to be sad when it's gone because the product isn't readily available in the UK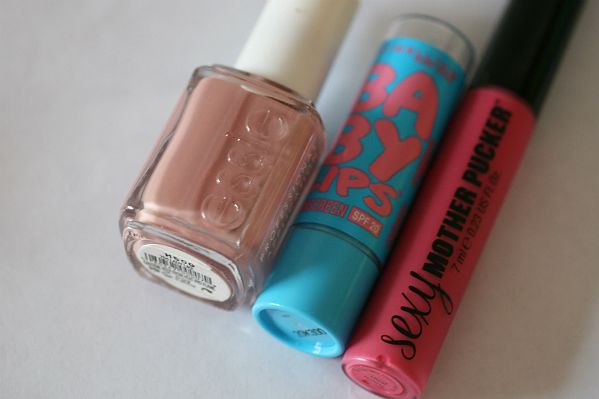 Essie's Ladylike nail polish - Ladylike is my go to polish when I want something on my nails but not sure what or when I just can't decide on a colour to wear. It's a subtle nude with a pale purple hint to it. I think Ladylike is a perfect name for this polish as it brings in a chic almost classy look to your nails, which I love.
Maybelline Babylips in Quenched - I love the Babylips balms but in particular I like the clear ones as you can apply them without a mirror and not worry about them getting all over your face. I think these might be the softest balms I've ever used but that means I do find myself getting through them pretty quick.
Soap and Glory Sexy MotherPucker lipgloss in Punchbowl - I was given this as as unwanted gift from my sister and at £9 I don't think it's something I would have purchased myself but I really like this gloss. It has a plumping formula so has that tingly sensation after you apply it but I love the colour and find that this actually stays put on my lips for longer than I expected. I like this so much I think I may just pick up another colour!
Well those are my favourites for this week!
What are you loving right now?