Hey lovelies! So I filled up yet another bag of empties and thought I would share the products I have recently used up with you.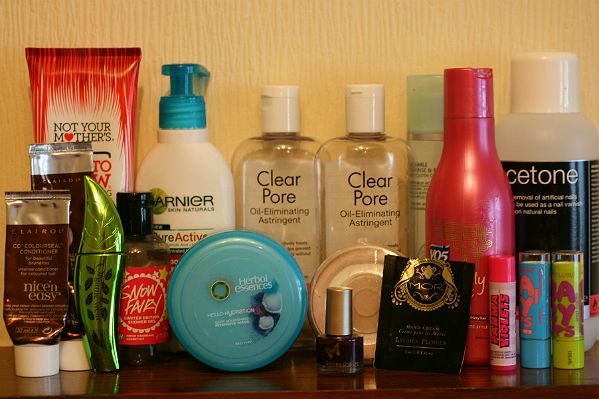 Physicians Formula Organic Wear Mascara
- I did a
post
a while back on this mascara and if you happened to have read that then you know I really liked it. I like more natural looking lashes which, when applying just a little of this mascara, is what you get. I did find that it smudged a little bit on me though.
Snow Fairy by Lush - This was my first time using Snow Fairy so I just went with the smaller bottle to see if I liked it but let me say, when it comes out again this year, I will definitely be picking up the larger bottle. Like most people, I loved it!
Accessorize mini nail polish in Purple - I find the nail polishes in the Accessorize line to be pretty hit or miss - some I really like and apply nicely while some are just disappointing. I didn't get much use out of this one, even though I know it's just a mini bottle because it went gloopy pretty quick. I'm also not sure of the exact name because the mini bottles don't come with them.
Herbal Essences Coconut Hydrating Hair Mask - When I picked this up I didn't realise it was coconut scented and if I had realised, I wouldn't have bought it since I don't like coconut scents but I was pleasantly surprised by this and ended up really liking it. It leaves your hair feeling super soft.
Parma Violets Lip Balm - I saw this in Primark and decided to give it a go because I love the parma violet sweets and although this smelt nothing like the sweets, it was a pretty decent lip balm which I enjoyed using.
Maybelline Babylips - What can I say? I LOVE these lip balms but I find, since they are so soft, that I get through them really quickly.
Liz Earle Cleanse and Polish - I'm not the biggest fan of cream type make up removers and tend to just remove my make up when I wash my face (with the acceptance of any stubborn mascara or eye shadow) but when my sister offered me her bottle of Cleanse and Polish which she didn't want, I decided to give it a go because I had heard so much about it. I ended up really liking this product and felt like it removed my make up really well. It's even gone through my mind to repurchase another bottle of it!
Not Your Mothers Shampoo - This shampoo smells amazing and I did really enjoy using it but I like a shampoo that lathers and this doesn't since it is a more natural product.
Neutrogena Clear Pore Toner
- I'm pretty sure they're just a rebranded version of
this
Neutrogena toner you can pick up in Boots (which is currently my favourite toner) but these ones were bought in America so they're in a different looking bottle. This toner leaves your face feeling smooth and clean.
Do you enjoy reading empties posts? I'm not sure whether to make this my last one of not!

Twitter | Pinterest | Instagram