Hey guys! Well I'm sure you have heard that it is Superdrug's 50th birthday and to celebrate Barry M have joined up with them and created this new polish.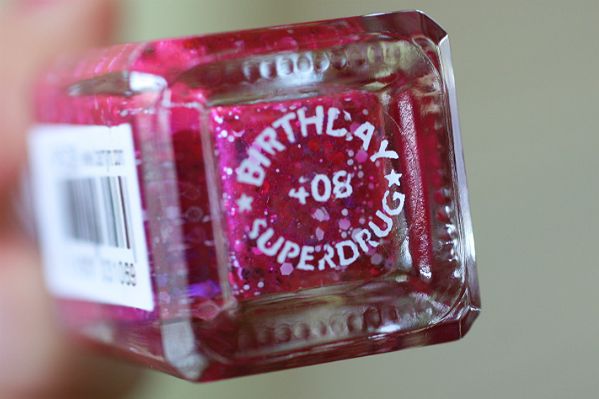 I first saw pictures of this polish a couple of weeks ago and to be honest, I wasn't very keen on it but I decided I would still pick it up in order to not face disappointment later wishing that I had since it's a special edition. On first application (last night) I still wasn't very impressed - it applied pretty sheer and the glitters/sequins were a pain to get even on my nail but once I had applied the second coat, it all started to come together. The glitters were more evenly spaced and it didn't look at all sheer. Then in the daylight today, I noticed what a pretty deep pink colour the base colour is and that the polishe catches the light beautifully. I just constantly kept looking down at my nails all day!
So I've come to the conclusion that this is one of those polishes that just doesn't photograph very well and that you need to see for yourself on your own nails to see how pretty it really is. I'm glad I decided to pick this up and it was only £2.99!
Have you/will you be grabbing yourself a bottle of this polish too?
Twitter | Pinterest | Instagram