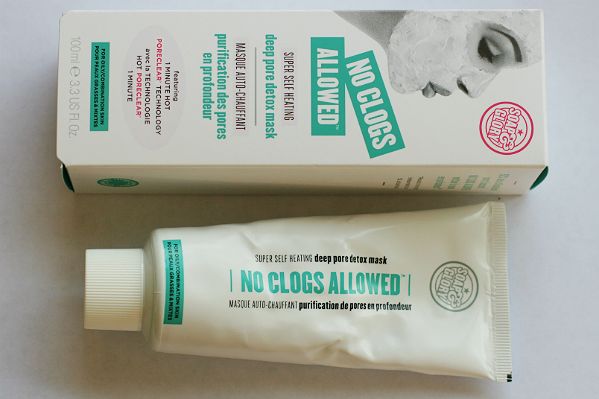 Hey guys!
I tend to stay away from face masks because I have super sensitive skin which means I like to stick to the few tried and tested products that I have which I know don't irritate it but I heard about this self heating, deep pore detox mask from Soap and Glory and thought I would see how it goes..
I read a lot of reviews on this product before I bought it, firstly to see if anyone else mentioned that it seemed to break them out and then generally, if people thought it was any good!
Directions state to rub a 'grape sized' amount of the mask onto your face, wet your hands with water and then rub the mask into your skin until it turns blue and heats up. Then leave it on for 5 minutes and wipe off with a warm cloth.
The mask blends out really nicely on your skin and has teeny-tiny exfoliating beads in it. Once you wet your hands and rub it in it definitely heats up, to me it goes beyond a warm sensation to feeling actually quite hot but this literally lasts a few seconds until it turns blue and then quickly cools down. During the 5 minutes I leave it on, it then starts to feel really cool on my skin, the way products with peppermint in them make your skin feel. I then wash the mask off as opposed to using a wash cloth like the directions suggest because I find it easier and like I said, since my skin is sensitive I like to make sure it's all removed from my face. I was disappointed to find that it no longer comes with a little sponge to use to wipe it off like it used to do before it was repackaged.
As for unblocking my pores, I'm really not sure. At first, after the first few times I used it, I felt like I was seeing a difference but now having used this many times, if there is any difference in my skin its a very little one! It does leave your skin feeling soft and clean though which is nice and it's a nice addition to use on a pamper evening.
This mask sells for £11.50 but at the time of this post it is currently £7.67 on the
Boots website
.
Have you used this mask? What did you think?

Twitter | Pinterest | Instagram