Summer is finally here and I've been digging around in my nail polish collection to sort out my more brighter shades to wear now that the sun is finally shining and over the course of the summer months..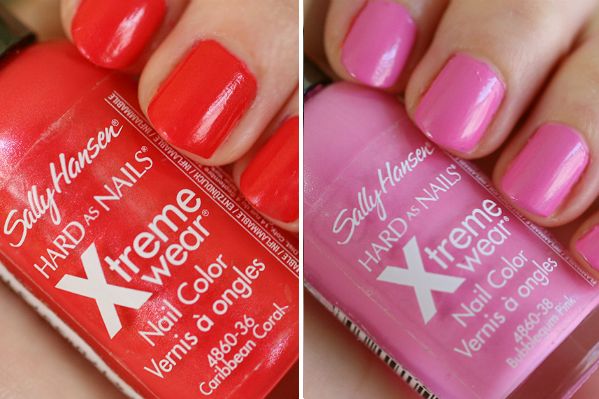 Sally Hansen Caribbean Coral - I'm not the biggest wearer of coral nail colours but this one leans more on the red side and the slight shimmer, although harder to see on the nail than in the bottle, just give it that extra something for me.
Sally Hansen Bubblegum Pink - I'm a sucka for blue-toned pinks and Bubblegum Pink is just that with a subtle silver shimmer to it.
I love the Xtreme Wear line from Sally Hansen, the brushes are longer than most polish brushes which makes for an easy application, they apply nice and smoothly and I find that these are some of the most chip resistant polishes that own.
OPI Bright Lights Big Colour - One of my all time favourite polish colours and perfect for summer! It has a pretty golden shimmer to it which translates well on the nails
Maybelline MNY 261 - This is the darkest of the shades I've chosen to include but I think the strong blue tone in this one makes it that little more bright and summery!
Barry M Blueberry - As you can see, this one dries a teeny bit streaky which is a shame and unusual for Barry M who are usually always pretty good but for me, the gorgeous blue colour makes up for it and I can forgive the odd streak
Primark (no name) - Trust me when I say that the picture does not do this polish any justice in terms of how bright it is - my camera just couldn't seem to handle the brightness of it and this was the best I could do. If you're looking for a neon pink then this will be it and although it doesn't have a name, if you go looking for this polish in Primark you will be able to spot exactly which one it is. The brush is unfortunately wonky which makes it a pain to apply but for just £1 and for the amazing colour that this is, I'm not going to complain too much.. This is definitely going to be my go to shade for summer!
What colours will you be wearing through the summer? I'd love to know!
Bloglovin' | Twitter | Instagram