With the release of both the Lush Halloween and Christmas collections along with the fact that some of their other newer products are slowly finding their way into general stores, I thought I would pop into my local shop and pick up a few goodies!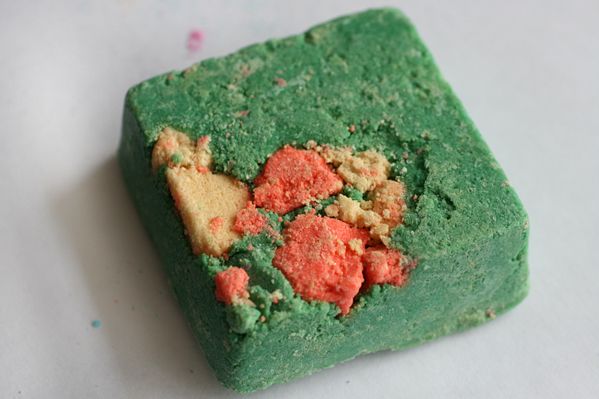 I forget where I first heard about this but I knew straight away that I had to try the Salt and Peppermint Bark scrub just from the name alone. I love peppermint scented body products and can't wait to try this.. I already see myself grabbing a couple more before they're gone!
I'm a big fan of Fun and last year really enjoyed using Snowman (top) which smells beautiful, so along with treating myself to another one of those I thought I would try a newer one too. They had 2 or 3 out which I don't believe they had last year and I decided to go with Santa (bottom).
I also picked up a couple of bathbombs which aren't part of the Halloween/Christmas collections, the first being Intergalactic. I had heard that Lush had released a minty bathbomb when they released all their new products earlier in the year and for some reason had it in my head it was 'Frozen'. To my disappointment Frozen smelt nothing like peppermint and after giving Intergalactic a sniff in store, I realised this was it. It smells amazing!
Finally I got The Experimenter bathbomb. If I'm honest I only grabbed this one because it's pretty and it smelt good ;)
What have you been picking up from the Halloween and Christmas collections?