I shared in my most recent
Lush haul
that I picked up Salt and Peppermint Bark - a body scrub packed full of salt, peppermint oil and cocoa butter. I love peppermint scented body products and I love body scrubs, so I was really excited to try this and finally got around to doing so.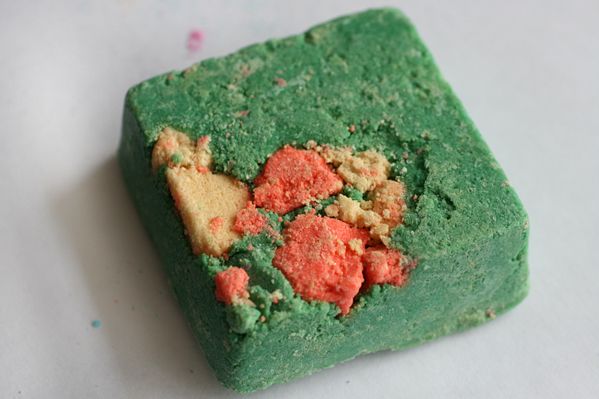 Salt and Peppermint bark feels a little more oily to the touch but puts me in mind of
Sugar Scrub
, which is another solid type scrub from Lush. Due to Sugar Scrub dissolving so easily when it touches water and reading to use Salt and Peppermint bark on damp, not wet, skin I was a little apprehensive it would dissolve and fall apart in the same way. I would definitely say you need to be careful with it, after using it on my arms and legs I could feel it starting to break up and it lost some of its shape but it seems to have dried okay and I'm hoping to get at least another 3-5 uses out of it.
It feels really good on your skin and depending on how much pressure you use, you could get both a gentle or rough scrub (unlike Sugar Scrub which I found scratched my skin if I wasn't gentle enough). Since it's a bar you can rub it into an area of your skin and get a really good scrub with out the salt instantly dissolving, which is something I look for in a scrub; I hate when the gritty bits of whatever I'm using disappear before I have a chance to really exfoliate my skin. It smells refreshing and I love the mint scent. I know a product smells good when I find myself sniffing my arms after I'm out of the shower and dressed which is exactly what I did with this.
Would I buy it again? If it was cheaper.. At £5.95 I think it's too expensive for a product that may dissolve right in your hands during the first use if you aren' careful with it. I also only see myself getting a couple more uses ou of it which is a shame because I had high hopes for this scrub!
Have you tried Salt and Peppermint bark?