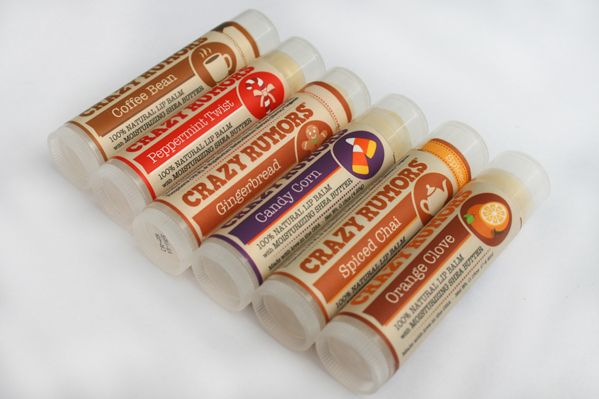 I am a lip balm hoarder and am always on the lookout for new ones to try. I've also been trying to add more natural products to my collection, so while in Holland and Barrett these balms by
Crazy Rumors
caught my eye (well the gingerbread one did). After using it for a while and really liking it I decided to place an order on the website and pick up a few more.
The balms remind me of Burt's Bees lip balms in that they have that thicker rich consistency. They all apply clear and contain shea butter which leaves your lips feeling moisturised and smooth. What really draws me to them though, is that not only do they come in an array of interesting scents/flavours but they are all vegan and 100% natural.
Crazy Rumors is an American based company so to enjoy the full range you'd need to place an order online which to the UK would leave you with a hefty postage fee ($23.95) but
Holland and Barrett
do carry around five different varieties at £3.50 each. The gingerbread one is perfect for this time of year!
Have you tried any of the Crazy Rumors lip balms?
Bloglovin' | Twitter | Instagram | Blog Index