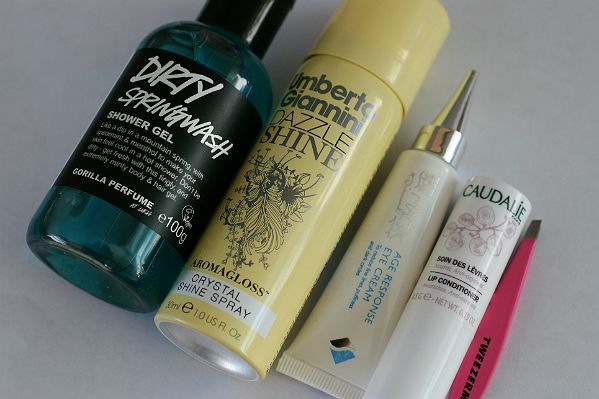 Happy Friday!
I wanted to share another five products that I have been loving recently with you.
Lush Dirty Springwash Shower Gel
If you saw my
Lush haul
then you would have seen that I recently picked up this shower gel because of the peppermint scent it has which smells amazing (I keep randomly opening the bottle just to smell it). I've been using it since then and just can not get enough of it.. I still wish I picked up the bigger bottle.
Umberto Giannini Dazzle Shine Spray
I have very dry hair and find that that can leave it looking very dull.. I spotted this while I was in Boots a couple of months ago and decided I would give it a go just to try it out. I didn't expect much from it but I spray a little bit of it on my hair after I'm done with straightening it and I feel like it actually does make my hair look shiny and less dull, it also smells really good.
Dead Sea Spa Magic Age Response Eye Cream*
Now that I'm in my mid-twenties I'm trying to take better care of my skin. I've been dabbing a little bit of this eye cream under my eyes and on my eyelids once a day but as with any eye cream, I can't really make comment on how well it works in terms of wrinkles as right now I'm just using it as a prevention product. It has a subtle floral smell which is nice and it feels good on your skin, it also dries quickly which is an added bonus for me. Although I can't comment on how well it works as such, I can say that general I really like it.
Caudalie Lip Conditioner
I picked this up while I was France which is just a clear lip balm but it's the most luxurious feeling lip balm I have ever used. It's thick, stays on your lips and just feels amazing. I've finished this tube though now, so at the moment I'm trying to dig out the last little bits of it because I don't want to be without it!
Tweezerman Travel Size Tweezers
I had heard so much about these tweezers but at £12.50 (for the travel size ones) I put off buying them. I use tweezers to shape my eyebrows myself at home but it is a job that I despise doing so finally with hopes these might make that job easier for me, I decided to go for it. To be honest, I couldn't see how these could be 'so amazing' like everyone kept saying they were but they proved me 100% wrong. Not only do they grab onto hairs easier than any tweezers I've used before but they also pull the hair out easier which I've found causes less pain. I find that even though these are the travel size ones, that they're perfectly easy to hold and use. I regret not buying these sooner because they make the tedious task of doing my eyebrows so much easier!
Earlier favourites:
-
January Friday Favourties
-
October Friday Favourites

Twitter | Pinterest | Instagram