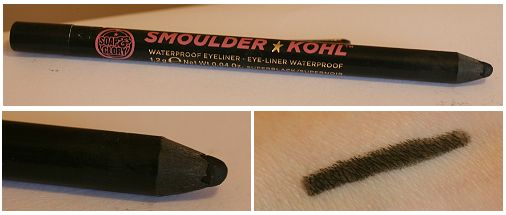 When were on our way home recently having been out
all
day my sister looked at me and commented that my make up was still there and that even my eye liner was still on and that she knew I hadn't reapplied it during the day. This has got to be the best pencil eye liner I have ever tried. It's super black, it's creamy so it applies easily and smoothly and it has
amazing
lasting power (it also comes with a sharpener attached to the lid).
The only downside to this eye liner is that I find it smudges a little bit and that sometimes at some point throughout the day I feel like I need to check and maybe wipe under my eyes. I have also noticed that next day after wearing it - even after using eye make up remover and washing my face - I still seem to get black around my eyes but that's a very small price to pay for such a lovely eye liner.
I lost the lid to mine and have noticed that it seems to have dried out a little bit but once you start using it again (or even if you were to slide it across your hand before using it on your eyes) it goes back to working perfectly.
If you're interested in trying this eye liner out for yourself you can
buy it here
for £5.00.
Have you tried this eye liner? Do you love it as much as I do?
What other Soap and Glory products do you recommend?