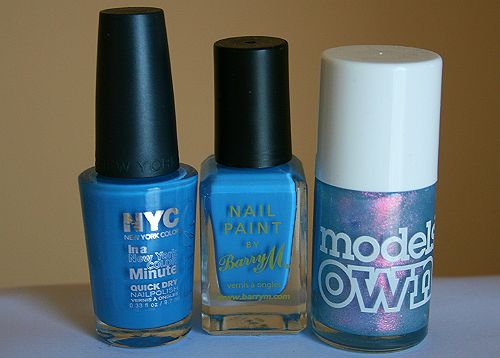 NYC - Water Street Blue £1.79
Barry M - Cyan Blue £2.99
Models Own - Indian Ocean £5.00
I have never really been a big fan of blue nail polish (except for the odd dark navy blue colour here and there) but I recently saw someone wearing
Butter London's 'Slapper'
and absolutely loved the way the bright, vibrant turquoise blue looked on their nails. So, I decided to creep out of my comfort zone and pick some blue polish up for myself. After doing a little bit of research, I decided the best high street dupe I could get for 'Slapper' would be
Barry M's 'Pure Turquoise'
which I thought I had picked up but - and this will teach me in future to actually look at the names of the products I pick up before buying them - I ended up with 'Cyan blue' which, as you can see from the picture, is still a pretty bright colour.
I purchased all three of these polishes from either Superdrug or Boots.
What are you favourite blue polishes for summer?