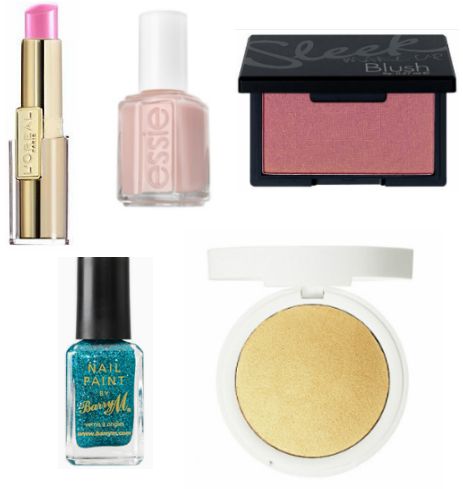 Since the weather and lighting are both so bad meaning I can't take any photos of products for a new blog post, I decided I would do a 'Monday wants' post and show you some of the beauty products I am currently lusting after! I am still on my 'nail polish buying ban' so the list of polishes I want to get is slowly getting bigger and bigger!
1. L'Oreal Caresse lipstick in 'Lovely Rose' £7.99 from Boots - I currently have one of these Caresse lipsticks in 'Tempting Lilac' and I love it, so I really want to try a couple more of them! I even prefer them to the Revlon lip butters and the smaller size means they are easier to apply onto your lips.
2. Essie - Fiji £7.99 from Boots/Superdrug - I haven't bought this polish because I'm worried that I will be disappointed with the colour pay off.. but then I will see it on someone's nails and think how pretty it looks! So once I'm allowed to start buying polishes again, this one will be on my list!
3. Sleek blush in 'Rose gold' £4.29 from Superdrug - I tried to buy this blush a few days ago but they were sold out in the Superdrug I went to and from what I have heard from other bloggers, this is a tricky one to get! (I don't think the picture shows the colour well at all - do you?)
4. Barry M nail paint in 'Aqua Glitter' £2.99 from Boots/Superdrug - I'm slowly starting to like blue nail polish more and more and this one has caught my eye. I think it could look really pretty layered over other polishes.
5. Topshop highlighter in 'Sunbeam' £9.00 from Topshop - I don't currently own any highlighters and have my eye on a couple of MAC ones but this one from Topshop also looks really pretty. This isn't currently on their website though and my local Topshop don't stock their make up products.
Do you have/want any of these products? What's on your current wants list?