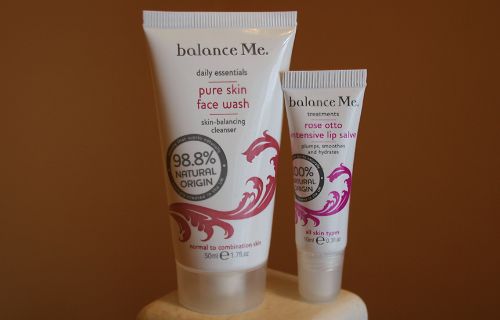 "Beauty that works naturally"
I haven't tried many natural beauty products so when I heard Glamour magazine were giving away some Balance Me products (a UK based brand which I had heard of before but not tried), I was excited to try some of them out. I first bought the Rose Otto lip salve and then more recently also decided to get the pure skin face wash to try too.

L-R: Face wash, lip salve
Pure skin face wash /skin balancing cleanser 98.8% natural for normal to combination skin RRP £11.00
"Enjoy benefits of balancing spruce knot extract, anti-oxidant rich rice bran oil and sense-awakening frankincense, grapefruit and ylang ylang oils. Allow wash to dissolve make up and daily grime to achieve a balanced, clean complexion without stripping away your skin's natural moisture levels'
So far I'm not the biggest fan of this face wash. It didn't give me the clean feeling that I like to have after washing my face and I felt like I wanted to wash it again using my normal facial cleanser. It has a very herbal smell which I didn't really mind in the tube but since using it to wash my face with, have decided it's a smell I don't really like.
Rose Otto intensive lip salve 100% natural RRP £12.00
"Our ultra moisturising intensive lip salve is a daily beauty must to plump, protect and smooth away dry patches to leave lops kiss-ably soft"
This lip salve is one of the smoothest and softest lip products I have used in a while and most importantly for me, I feel like it stays on your lips for a very long time before you notice it's gone and feel like you want to reapply it. The only thing I don't like about it is it's herbal/rose scent; it both smells and tastes like Turkish Delight - which I hate. Up until yesterday I was bearing the scent but then I started to not feel very well, used this lip salve and the taste actually made me feel sick. I also think at £12.00 this is a pretty expensive lip treatment to have in your collection.
If you would like to read more about Balance Me and their products you can do so on
Balance Me
website.
Have you tried either of these products? Do you find the scents as off putting as I do?