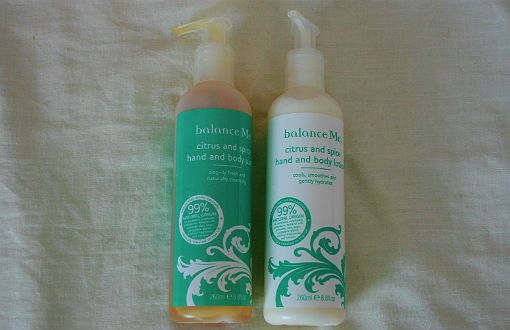 After my recent
blog post
reviewing a couple of other products from balance Me, I was contact by them and kindly asked if I would like to test out a couple more of their products. After looking on their website, I was intrigued by their 'Citrus and Spice' line and was very interested in testing out what they were like (and even more interested to see what 'citrus' and 'spice' would blend together to smell like!).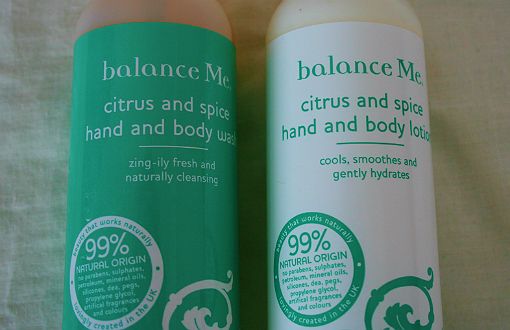 Citrus and Spice hand and body wash 99% natural RRP £10.25 for 260ml
I haven't used this as a body wash and have instead just been using it to wash my hands. I was worried that with it being made with natural ingredients that it wouldn't lather very well but with two pumps and plenty of water, it lathers really nicely and leaves your hands feeling clean and fresh. I'm someone who is constantly washing their hand and after using this for around two weeks now and haven't found it to be at all drying on my skin.
The main thing I like about this soap is the smell; it smells very strongly of ginger which I really like and I find that I can still smell it quite a while after I've wash my hands. I can't imagine how good this would smell if you were to use it as a body wash in the bath or shower!
Citrus and Spice hand and body lotion 99% natural RRP £12.25 for 260ml
I've so far been using this lotion on my hands and legs and absolutely love it. One thing that puts me off lotions and creams is when they take forever to dry and leave your skin feeling sticky, but this thick and smooth lotion sinks into your skin and dries really quickly leaving it feeling super soft and refreshed.
The scent of this one is a lot different to the soap and smells mostly to me of peppermint, which I again really like and which I think helps add to the refreshed feeling it leaves on your skin. Over the soap this is the product I would be most likely to repurchase, I just love it!
Balance Me is a brand I am becoming more and more interested in and although I have been put off in the past by the scent of a few of their products, the products themselves have not disappointed so far.
If you would like to read more about what balance me say about their citrus and spice line or to look at other products they offer, you can do so by visiting the
balance Me website.
Have you tried any of their products? I would love to hear about what you have tried and your thoughts.