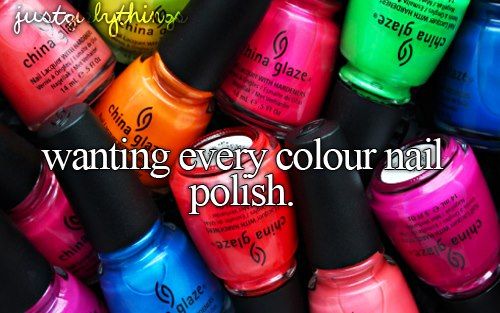 I was flicking through someone's photos on Facebook recently, when I came across this picture and knew straight away I wanted to use it on my blog somehow. So it inspired to me to write this post..
Over the last couple of years I have fallen in love with nail polish and have managed to acquire myself quite a hefty collection. To be fair to myself though, I don't want every colour; I'm not the biggest fan of blues or greens and when I have two (or three) in almost the exact same shade, I feel slightly guilty. However, my collection keeps growing and although I have recently been on a polish ban to try and use some of the ones I already own up, there are still lots more that I really want!
Anyway, while we're talking about all things nail polish, I am curious about a couple of things:
1. What is your favourite nail polish/colour?
2. Do you have back ups of your favourite ones? If so, what are they and how many of each do you have?
3. How many bottles of polish do you think you currently have in your collection?
4. Which ones do you want to get next?