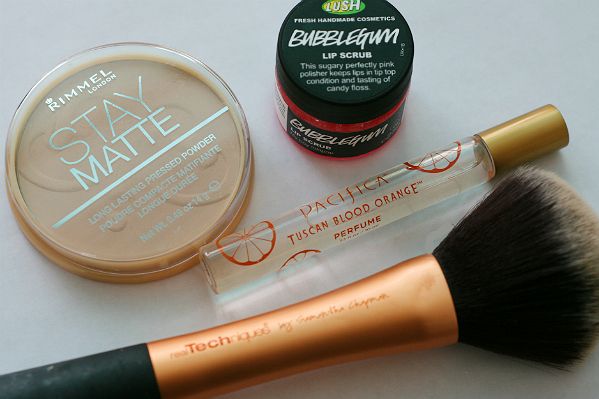 Hey guys! Just super quick favourties from me this week since I haven't done one in while!
First up is the Rimmel Stay Matte powder. I've been using this powder for years (around twelve to be exact!) and have never felt the need to switch or even try anything else. It's light, it sets my foundation well and it's affordable. This one is always a favourite.
Linking nicely from the powder is the Real Techniques Powder Brush - this brush is around £12.99, so not the cheapest but it picks the powder up well and I find it's the perfect size to apply the powder to my face.
Next is the Lush Bubblegum Lip Scrub. If I'm honest, I bought this because the scent reminded me of Snow Fairy but it sat in my drawer for ages and ages without me using it. I recently dug it out again and I've been using it frequently. Does it do anything? Who knows really but it smells amazing and does feel good on the lips, so I can call it a favourite, right? ;)
Lastly is the Pacifica Tuscan Blood Orange perfume - I got mine from America but I have seen the odd one sitting in random places in Tesco, although I've never actually seen a spot for them on the shelves. Anyway, when first applied this has an odd scent but once it's had a few minutes to sit on your skin it has a beautiful citrus-y/sweet scent which isn't something I would typically go for but I really like this. I just which it wasn't in a roller-ball form because I find that a paint to apply.
What have been your favourites recently?
Bloglovin' | Twitter | Instagram