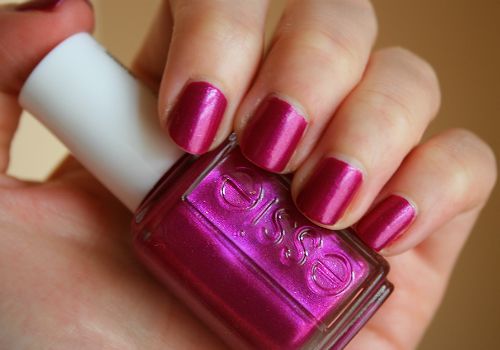 I don't know about anyone else but I find that when I'm trying to choose a nail polish to buy and there are whole lines of the same colour in various shades (and I'm talking about when there are 10+ bottles of pink polish all varying ever so slightly from each other), I just find myself overwhelmed and I find it very difficult to pick out the one I like the most. This is exactly how I felt while I was standing in front of the Essie stand in Boots. So I tend to gravitate towards the colours that stand out most to me because they aren't grouped with other shades that are basically exactly the same colour.
This is how I came across and decided to buy 'Jamaica me crazy'. It's a beautiful purple colour which has a very deep pink tint to it and has silver micro-shimmer . I like that the shimmer transfers well enough on to the nails that it can be noticed and because it's just a shimmer, it isn't a pain to get off.
What are your favourite Essie polishes that are perfect for Autumn?